Portable pipe and drape for wedding backdrops events
RK=RACK, it reflects the main product of Rack in the Cases Limited. RACK CASE is a major kind of flight case, and also a general term of flight cases. The moral of it, RK is going to be the pioneer of flight case in the world.


Secondary meaning:
R=RIVER, the letter"R" in the logo performances like flowing river. the moral of it, RK will shine more gloriously and have a long history.
Main products: flight case, stage, lighting truss, dance floor, various kinds of bleacher, and so on.
Everyone has his own dream wedding, charming, romantic like fairy tale. RK is the right one to come true your dream.
Here we introduce our new product :wedding supplying stand: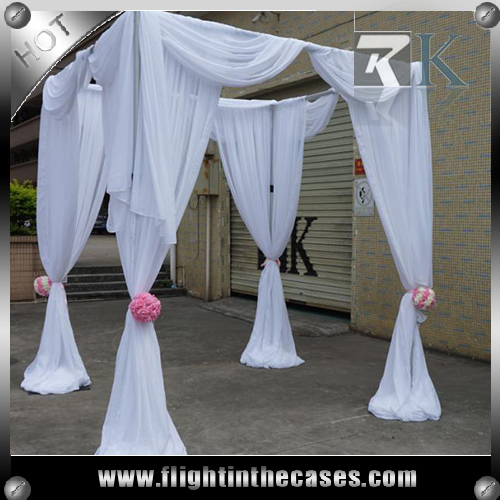 This kind of pipe and drape stand system is including 4 crossbars, four uprights and 4 base plates with pink cheffon drape.
Withing the sunshine shining, you can see it and imagine that your weeding like in your dream.
Except these, it still has other features as followings:
* Durable and rust resistant.
* Modular stand system.
* Easy to install, can be assembled in minutes.
* Virtually unlimited size or configuration.
* Creates theatre-like appearance.
* No extra tools required.
* Drapes can be supplied to size
* Easy for carry with special designed hand bags or special flight case.
And it can be used in many kinds of occasions. Such as:
*Trade Show - establishing a trade show booth system.
* Places of worship - ceremonies and performances.
* Colleges and schools --For sporting events, class reunions, and a variety of school related functions.
* Wedding halls - Backdrops behind the head table, and often the surrounding walls as well.
* Businesses - Hide construction on their premises, or to re-enforce corporate colors wherever they go.
* Photographers - Background of photo shoots, or to make a portable photo booth enclosure.
* Hospitals - Create private dressing rooms for patients waiting to go to their room.

So wherever you go, you can take it, especially for our friends who works in

performance shows such as wedding supplies, Birthday party decorations. It is really perfect for all.

If you are interested in our this kind of product.

Please contact us for more details such as packaging ways, shipping and other

information. Welcome to visit our company website: sfhk.en.alibaba.com