Durable Guitar Flight Case for Fender Guitars and Gibson guitars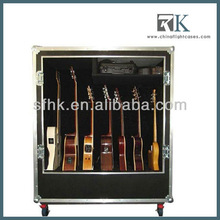 Specifications
Gibson Guitar Flight Case
Beefy, Stackable Ball Corners
Universal Guitar Cases
ATA300 Style
5 years warranty

Durable Guitar Flight Case for Fender Guitars and Gibson guitars
SKU: RKGTR10C
Specifications of Gibson Guitar Flight Case:
Case for gibson guitar :
1.Beefy, Stackable Ball Corners
2.Universal Guitar Cases
3.ATA300 Style
4.five years warranty


Description of Gibson Guitar Flight Case :
Large capacity guitar bass case,Gibson guitar case RKGTR10C can take 10pcs guitars one time, could provide perfect protection of your large qty guitar/basses,also save space maximum in your journey.
Durable Guitar case fit for Fender Guitars and Gibson guitars.AAHH, Guitars the pine of our existence; to be cared for gingerly and tenderly. We understand your relationship with your guitar and your paternal instinct to protect it. That's why we created the RKGTR10C; the ultimate in guitar protection.
Beefy, ATA style construction with swanky adjustable velvet lining to cradle your electric guitar in the perfect lap of luxury. We even threw in a handy compartment for all your accessories. Don't worry we've got you covered.Bass Guitar Case - RKGTR10C -Fits Fender Jazz Bass /P-Bass and various Guitar Bass Gibson,it's your best choice for large qty equipments.
Description of Gibson Guitar Flight Case RKGTR10C :
Use 9mm fireproof plywood, 8mm EVA foam inside

Case inside decorated with aluminum plate to be aluminum box structure ,

Strengthen loading capability ;

Top lid for easy loading and unloading;

Side door for easy open and unloading;

Use accessories like 8pcs big ball corners, 8pcs holes corner braces, 6pcs large butterfly catches, 6pcs big castor dishes, 4" white iron caster and so on .
Color: Black ,blue ,purple ,silver ,red ,orange yellow is available for production.