DESCRIPTION
Details
40% off ! RK smart stage new year promotion
To thank the deeply love of all the new and old customers, RK Group decided to give some feedback to all of our customers at the beginning of 2018
If you are looking for portable stage now, it is a good chance for you to own your portable mobile stage with lower price because of RK new year promotion.
1. 1m*1m industrial surface stage platform/black carpet surface stage platform USD52.00/PC
2. 40cm high stage riser USD28.00/PC
3. 60cm high stage riser USD30.00/PC
MOQ: 10sets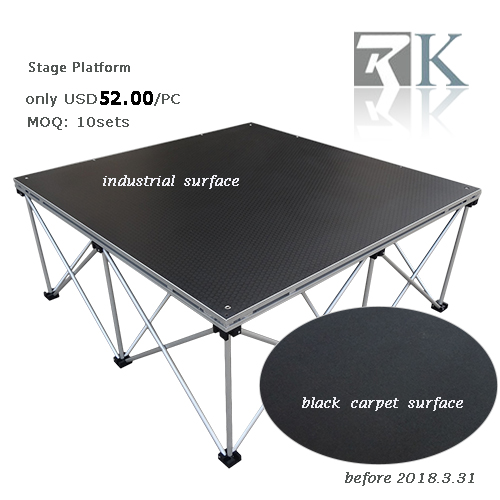 Our RK smart stage is easy to install, innovative, lightweight but strong, it could meet all of your performance requirement and make lives easier.
Which perfect for schools, houses of worship, hotels, event organizers and more, especially ultimate in portability and convenience.
1. Consisting of modular, lightweight and that can be combined to create in various heights and configurations.
2. Easily assembled by a single person, connection fastened together using our unique internal locking system.
3. TUV test passed, loading capacity is 800KG per panel.
------------------ End by 31st,Mar.2018
Any requirements, welcome to contact our RK sales team!
May the universe bless you in surprising and joyful ways.Happy New Year.


To top