Come Across A Special Keyboard Case On Mini Concert
Last night, my good friends invited me to their mini music concert. When I arrived there, the music scene if full of swing bodies. Some was dancing and some was listening to rock music. And I felt overwhelmed by the elegant keyboards. Slowly, I felt as I entered the electronic philosophical thoughts of space.
At the end of the concert, My friend Jack said to me"do you see that keyboard case, it looks like a special suitcase, that have built-in casters and can be arbitrary moved, looks very strong." I was curious and came closer to it. The keyboard case shell is by joining plate, sheet is wrapped with aluminum outer, tongue and groove fit connected between the use of interface, which can be waterproof. Moreover, we may timely adjust the chassis plate and use it flexibly. The whole case looks really like a suitcase, which you can drag easily rather than using your hands to handle.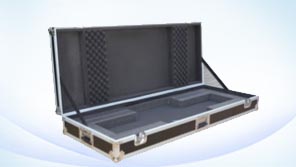 Finally, Jack and me decided to ask where we can buy that perfect keyboard case. Actually, that keyboard cases are well manufactured by flightinthecases. There are many kinds of flight cases provided to choose. we also can order one what we really want. It sounds great for us to own it at once.