CDJ Workstation for DJM900 and CDJ2000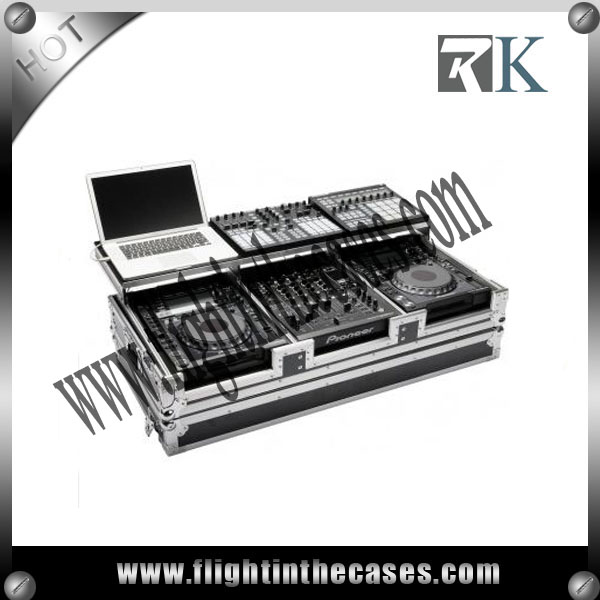 This CDJ workstation case is custom designed to hold one Pioneer DJM-900 Nexus Mixer and two CDJ-2000 Nexus player. Each CD-player and mixer compartment provide
additional foam stripes to fit also all older Pioneer models such as DDJ-2000/900/850/800 or DJM-1000/800/700/600. This heavy duty flight case is particularly
suitable for digital-DJs due to the new (extra-wide) gliding laptop and accessory platform. Thanks to its removable front panel covers and the useful cable
access ports, the workstation is ready for action in no time at all as the equipment does need not to be removed from the case anymore.
-Holds 1 Pioneer DJM-900 Nexus and 2 CDJ-2000 Nexus and all older Pioneer models
-Incl. gliding platform (removable) for Laptop and additional gear
-Heavy duty construction of 9 mm vinyl laminated plywood
-Solid aluminium profiles and spring loaded latches
-Secure stacking due to stackable ball corners
-3 removable front panel covers
-Full padded interior (2 cm)
-Convenient cable access ports
-Additional foam to fit various mixer and CD-player models
-Incl. recessed wheels for easy transportation
-External: (H*W*D) 27 * 115 * 53 cm
-Internal: (H*W*D) 32 * 38.5 * 9 cm (cd-player compartment) / 33 * 38.5 * 9 cm (mixer compartment)
As we have our own factory in China, any requirment about your custom case is accptable for us. Our products are good in quality and competitive in price. Please
contact with us if there is anythig we can help you.