Fireproof Velvet LED Star Light Curtain for Weddings or Night Parties
Since LED lights have been used on many aspects in our life, it's impossible for us to live in a world without colorful lights. LED light used on curtain background drop is another new style of decoration for weddings or parties. These tiny lights are shining with three or more colors of lights, that's why the whole piece of curtain are so beautiful and gorgeous.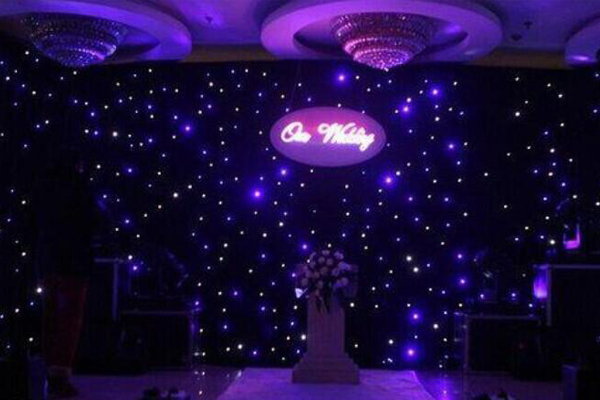 RK has been working on

LED light curtain

manufacture for years. Our LED star curtains are special on good quality material make and exquisite workmanship. Here we introduce one of our representative samples for explain. This new style LED curtain is made of fireproof velvet and set with four colors LED lights, which are white, red, blue and green. Usually, a LED light is shining with seven RGB colors, different colors mixed together to make another beautiful sight. You can custom LED curtains of different styles as long as you leave your contact massage on our website.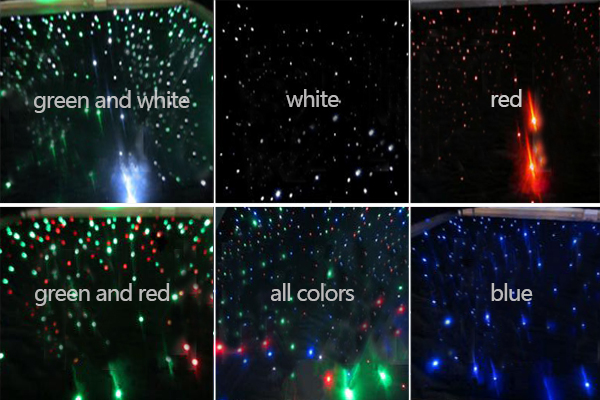 Here we choose import LED lights setting on the curtain, this kind of LED specialized on life long operated, high brightness and energy conservation. For example, it's only cost about 100 watt for each 100square meters of the curtain for for the lights. These LED lights can be shining on duration of 5 million hours. You can use the curtains over and over again without worries. As for the wires of the lights, it's connected by different lengths on the back of the curtain. Our wires are flexible and tough, even durable. These wires maybe long and thin, but it's not easy to break under large strength of pulling.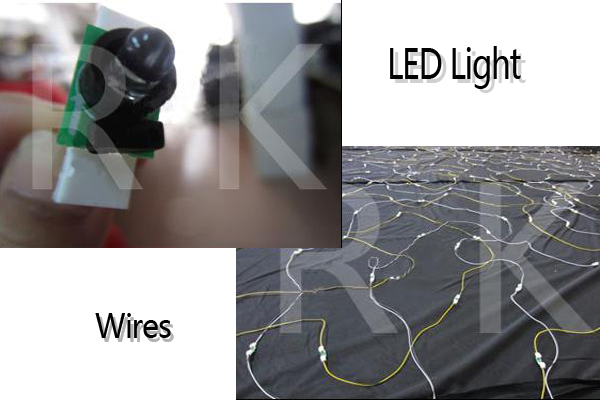 As this

LED light star curtains

are shining of colors in different time, we need a remote-control box to set up the shining colors on previous. There are five bottoms on the control box, A, B, C, D and E. A is functional bottom, you can set up the shining colors of the lights on this bottom. B is plus bottom and C is minus bottom, you can control the brightness of the lights on these two bottoms. D is confirmation bottom, which means you need to confirm your previous set up operation with this bottom. E is a little display window of LED light brightness, which means, you can see different combination group of lights on this display window. Maybe the process of control is a little complicated, but you will find it interesting after you practice many times and are familiar with the operation.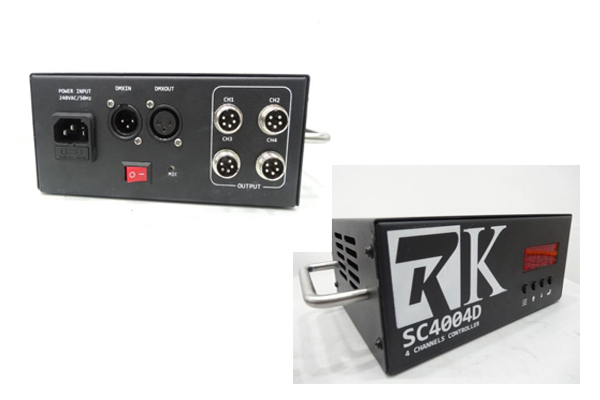 Since we are the LED star curtain manufacture here in china, our quality is guaranteed and our delivery package is security. Custom curtain of different sizes and LED lights of different colors is OK for us as long as you contact with us. Please follow us on our website for more about our new coming products.